Cutting-edge technology for the storage of onions

Onions belong to the few vegetable types which are traded all over the world. For you as a local provider, this means that crop failures in the southern hemisphere or in the Asian region may result in attractive market potentials.
Take the best advantage of this opportunity by storing the onions harvested during summer and selling them at premium prices in the winter months.
Our experts on onion storage are happy to be of service with advice and support. Innovative technology such as our future-oriented condensation dryer will make sure that the operation of your warehouse is as efficient and cost-saving as possible.
We offer:
• the right storage technology for each commercial size
• safe drying process with cutting-edge condensation drying
• planning and implementation of customized CA/ULO warehouses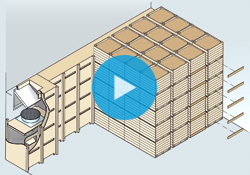 Do you have more questions about the storage of onions?
Please do not hesitate to contact us – we'd be happy to be of service at any time.

Hermann Gaugele jun.
Dipl. Ing.

Tel: +49(0)8856-9366-0
Fax:+49(0)8856-9366-123
h.jun@gaugele.de