Appropriate storage of garlic

Garlic is healthy and enjoys great popularity both in German and international kitchens, where it is used both fresh and in its dried state.
The good news for you: Gaugele has the ideal storage solution for both kinds.
If the freshness of the harvested garlic is to be preserved, we recommend gas-tight storage with ULO (Ultra Low Oxygen) technology. Not only are temperature and humidity regulated but also the gas composition of the storage air. The result: the sensitive bulbs remain in a fresh condition for a considerably longer time.
If, on the other hand, the garlic is to be marketed as a dried variant, our especially energy-efficient condensation dryer is the ideal solution. It first collects moisture from the warehouse air and subsequently heats the dried air again, so that it can once again collect moisture from the warehouse air.
Thereby, our reliable TMC.10 control unit gently and quickly brings the garlic into the ideal dry state in which it is then safely maintained.
Your advantages:
• the right storage option for every need: ULO or condensation drying
• maximum reliability thanks to modern control technology
• energy-efficient and profitable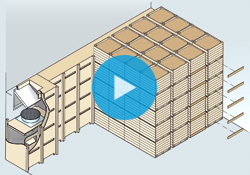 Do you have more questions about the storage of garlic?
Please do not hesitate to contact us – we'd be happy to be of service at any time.

Hermann Gaugele jun.
Dipl. Ing.

Tel: +49(0)8856-9366-0
Fax:+49(0)8856-9366-123
h.jun@gaugele.de