Reliable solutions for carrot storage

Carrots are extremely popular and very versatile. Thus, they are frequently also used as animal feed or for further processing. The demand for carrots is correspondingly high, but can be easily met thanks to Gaugele's modern storage technology.
And yet, their storage is most definitely demanding, as the popular vegetable likes it moist and cold. A humidity of 90 to 95 percent with temperatures slightly above freezing level are optimal conditions.
For your warehouse, this means: the used technology has to be operational even under extreme climatic conditions. Thanks to Gaugele, this is no problem at all – because all our products are of top-quality workmanship.
Your advantages:
• long-standing experience in carrot storage
• everything from one source: hall construction, storage and transfer technology, cooling, and ventilation
• preservation of freshness and quality with optimum energy efficiency
• top-quality, reliable and durable storage technology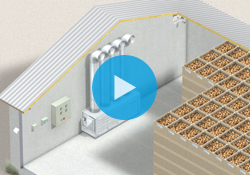 Do you have more questions about the storage of carrots?
Please do not hesitate to contact us – we'd be happy to be of service at any time.

Hermann Gaugele jun.
Dipl. Ing.

Tel: +49(0)8856-9366-0
Fax:+49(0)8856-9366-123
h.jun@gaugele.de