Ideal storage conditions for each type of vegetable

Vegetables not only supply needed vitamins and minerals but are also as popular as they are versatile. The requirements of each vegetable type vary significantly as far as temperature, humidity, and the composition of storage air are concerned.
Gaugele storage technology ensures that each vegetable is ideally stored and thus kept fresh and of high-quality until the new harvest.
Apart from the use of classical outside air ventilation, it has today become increasingly popular to store vegetables in gas-tight rooms, that is in so-called CA (Controlled Atmosphere) or ULO (Ultra Low Oxygen) warehouses.
In combination with Gaugele cooling systems and our TMC.10 control unit, all storage parameters are set precisely to fit the respective product – for example, a temperature close to 0°C with a high humidity of 95 percent, as well as low oxygen and increased carbon dioxide levels.
Your advantages:
• the right storage for each vegetable type
• innovative solutions including CA and ULO storage
• intelligent control technology to permanently secure the perfect climate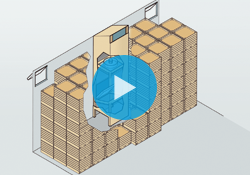 Do you have more questions about the storage of vegetables?
Please do not hesitate to contact us – we'd be happy to be of service at any time.

Hermann Gaugele jun.
Dipl. Ing.

Tel: +49(0)8856-9366-0
Fax:+49(0)8856-9366-123
h.jun@gaugele.de